Anyone can play along! Just do the following:
→ Grab your current read
→ Open to a random page
→ Share two (2) "teaser" sentences from somewhere on that page
→ BE CAREFUL NOT TO INCLUDE SPOILERS!
→ Share the title & author, too, so that other TT participants can add the book to their TBR Lists if they like your teasers!
---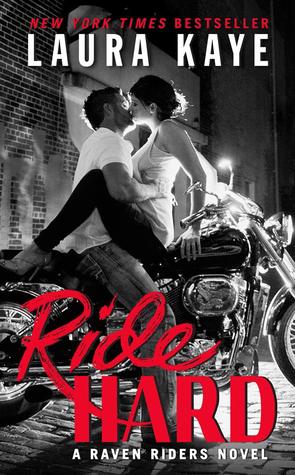 Ride Hard (Raven Riders #1)
by Laura Kaye
→
Add to Goodreads
Brotherhood. Club. Family.

They live and ride by their own rules.

These are the Raven Riders . . .

Raven Riders Motorcycle Club President Dare Kenyon rides hard and values loyalty above all else. He'll do anything to protect the brotherhood of bikers—the only family he's got—as well as those who can't defend themselves. So when mistrustful Haven Randall lands on the club's doorstep scared that she's being hunted, Dare takes her in, swears to keep her safe, and pushes to learn the secrets overshadowing her pretty smile.

Haven fled from years of abuse at the hands of her criminal father and is suspicious of any man's promises, including those of the darkly sexy and overwhelmingly intense Ravens' leader. But as the powerful attraction between them flares to life, Dare pushes her boundaries and tempts her to want things she never thought she could.

The past never dies without a fight, but Dare Kenyon's never backed down before..
Quote:
Dare stepped closer, his thighs coming up against her hip. He lifted her chin and made her look at him. The contact combined with the command in the gesture lanced white-hot desire through her veins. "Makes you what?"

"Want to feel alive," she whispered, her heart suddenly racing in her chest.

Dare's jaw ticked again as his gaze swept over her face. She didn't think she was imagining the raw emotion pouring off of him and wrapping around her, but she wasn't sure if she was reading that emotion right or projecting her own desire onto him.

"Do you feel alive, Dare?" she asked, the alcohol flowing through her and the night spinning around her like she was walking through a dream.

"Jesus," he bit out.

The rough desperation in his voice made her wet between her legs. "Just once," she whispered, not sure what she was asking him for.
---
So what did you think of the Ride Hard Teaser?
Are you a fan of Laura Kaye? Adding this to your TBR list?
I'd love to hear your thoughts! Thanks for stopping by!