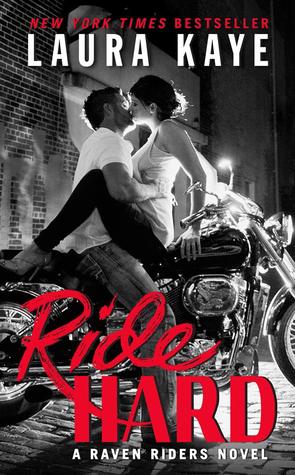 Ride Hard (Raven Riders #1)
by Laura Kaye
Published: April 26, 2016
Published by: Avon
Source: Purchased Myself
Links: Goodreads | Amazon | B&N
Brotherhood. Club. Family.

They live and ride by their own rules.

These are the Raven Riders . . .

Raven Riders Motorcycle Club President Dare Kenyon rides hard and values loyalty above all else. He'll do anything to protect the brotherhood of bikers—the only family he's got—as well as those who can't defend themselves. So when mistrustful Haven Randall lands on the club's doorstep scared that she's being hunted, Dare takes her in, swears to keep her safe, and pushes to learn the secrets overshadowing her pretty smile.

Haven fled from years of abuse at the hands of her criminal father and is suspicious of any man's promises, including those of the darkly sexy and overwhelmingly intense Ravens' leader. But as the powerful attraction between them flares to life, Dare pushes her boundaries and tempts her to want things she never thought she could.

The past never dies without a fight, but Dare Kenyon's never backed down before..
Peyton's Thoughts:
This is my first novel from this author and she completely rocked my socks off! The best part of this novel? It's written in dual POVs! Those are literally my favorite novels, because I love to see what is going on in each persons head! From the very first page of this novel, I was hooked. Laura Kaye took a motorcycle club, a Dare, a Haven and a world to get lost in - put them all together and wrote a novel that I fell head over heels in love with.
Haven is... wrecked. Everything about her should shout I AM A BLASTED MESS - yet she will die before she lets anyone at all see that. Instead of closing off the world after the horror she has experienced, she has the uncanny ability to put every single person in the world before her. As if her problems are so small and everyone else takes place over her. She has got to be one of the best heroines I have read about in awhile. She is completely loyal, almost to a fault, witty, smart, cunning and overall she finds a way to see the good in everyone. I watched from the beginning - all the way to that "AHA!" moment as Haven navigated life to find herself.
Dare is... tortured. He has faced some demons on his own and has yet to find a way to deal with them, instead letting them control a part of his life that he cannot seem to let go. Dare needs Haven, yet it seems like the entire universe is standing in the way. As the president of the MC, he more than has his plate full. I love his character - he is a leader, an Alpha but not overbearing - he is someone anyone would want on their side and I FELT his presence as I was reading about him.
Two hearts looking for one another, two lost souls and one list - the list that brought them together. The story of Dare and Haven is one that should be read by everyone. It's a roller coaster ride of emotions, but one that is needed to watch from beginning to end as these two overcome, fight, grow and find themselves and family.
Let us not forget about the secondary characters of this novel! This book would have been seriously lacking if Cora had never been added to the mix. She brings out a side of Haven I don't think we would have seen without her. The club - the men of the club are something else completely. Aside from Dare, I think I fell in love with about 3 of them already and I cannot wait to read their stories! The passion in this novel, coupled with the witty banter and depth of each emotion and feeling - made for a compelling read that I could not put down. This is going on my "favorites" shelf and never coming off!
---
What did you think of the Ride Hard Review?
Have you read any Laura Kaye novels?
Did you add this to your TBR list?
I'd love to hear your thoughts & thanks for stopping by!