✮✮✮ THE SAPPHIRE AFFAIR is here! From
New York Times
bestselling author Lauren Blakely's new contemporary romance
Jewel Novel series
, this enemies-to-lovers series is filled with sex, wit, glamour, and high stakes, with a rugged, ex-military, dirty-talking alpha hero! Don't miss this explosive and passionate series! ✮✮✮
---
You can read an EXCERPT of this novel -
HERE
!
→ → Don't forget to enter the GIVEAWAY at that link as well! ← ←
The Sapphire Affair
(Jewel #1)
by
Lauren Blakely
Published:
July 12, 2016
Published by:
Montlake Romance
→ →
Add to
Goodreads
Bounty hunter Jake Harlowe knows how to track a criminal. So when a group of swindled shareholders hires him to trail their former CEO, Jake expects a quick trip to the Cayman Islands to close another case. Until a devastatingly beautiful woman gets in the way.

Steph Anderson is visiting the Caymans for a rock climbing and dive trip—or so she tells Jake. She's really trying to find out whether or not her stepfather embezzled money from his company. The last thing Steph needs is the distraction of a sexy, charming man whose kisses drive her wild.

Soon, the pair discover they're after the same target—and millions in jewels. While Jake can't be certain Steph isn't working for her stepfather, and Steph can't be certain Jake isn't after the diamonds for himself, they can agree the heat between them is intense, and neither can deny the passion for long.

But the morning after, Steph discovers that she just might have slept with the enemy, and now she'll have to outwit him to get everything she needs..
Peyton's Thoughts
This is legit my reaction right now, as I try in vain to get the words from my head onto this screen! This book is so embedded in every single part of me, that I do not even know where to begin here people!
I have read every single novel that Lauren Blakely has put out and The Sapphire Affair has officially moved all the way up to the top of my favorite list. Hands Down. No Question Asked. You love romance? Like a little suspense in your stories? Like some steamy pages? A good Alpha and a Heroine with a great head on her shoulders? Good banter and page turning story lines? This book literally has everything you can ask for in a novel. Not one part of me wishes there was something else. Rocked my world is exactly what Blakely did.
These two amazing souls were brought together by one common goal.. even if they didn't even realize that small tidbit. Aside from that, every single fiber in my being knows that the two of them are meant to be together. I just need them to get it together and understand this. Think about it.. Jake is an Ex Military Man (I might be partial since my husband is currently military) - what more could someone ask for?! The way these two are around each other. The chemistry that BURNS from the pages. I mean really! Even if they can't seem to get it together enough to understand this, I know in my heart of hearts that:
Steph is on a mission of her own. Try as she might, she WILL get this accomplished! It just seems that when their paths cross, things look just a little worse than what they really are.. Being a woman, I can understand where the urge to automatically think the worst comes into play.. It is just a matter of Steph knowing the difference between fact and blurred lines in this instance. Jake is there on his own business.. It just so happens.. they are after the very same thing! INTEREST! So interested! Reading this novel literally has be convinced that I can hop my butt in the ocean and start searching!
Jake would be all like: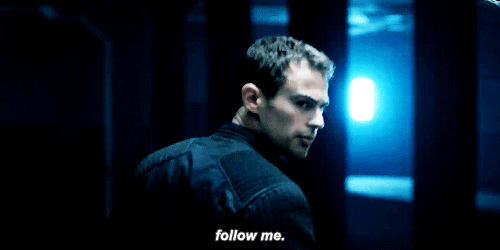 & I would be all like, "Well of course Mister Sexy Bounty Hunter You!"
Closer to the end, the two of them realize that they need each other.. Trust is not something either one of them gives easily; so imagine the stalemates and amount of pride swallowing it took for them to realize the only way for both of them to obtain their goal, was to put their trust in the other. Oh yeah - talk about a turn about in the story.. Things really get interesting from that point on.
This novel does end on a cliffhanger - but The Sapphire Heist is not too far around the corner and I cannot wait to see how everything turns out! I want to know the story behind all of this and see just where Jake and Steph are going to end up! I loved this story so hardcore. I fell in love with Jake from the get go.. and Steph is about the best Heroine I have read in a long time! I loved the fact that she was so easy to relate to. She can hold her own, especially against that rock hard, sculpted hunk of man, Jake! Lauren Blakely is often my go to for great romance novels and I am so beyond blown away with the depth of this story! It flowed effortlessly. Nothing was rushed. The characters were so well rounded and the secondary characters were even well written and played a great part in this masterpiece. Seriously; the end of this novel should have read..
For obvious reasons aside from it rocking my entire world - I give this a sold 5 stars. COME ON BOOK 2!
Purchasing Information:
THE SAPPHIRE AFFAIR & THE SAPPHIRE HEIST are being released by Montlake, which is an Amazon publishing company, and will only be available for sale at Amazon. You can download a free Kindle reading app for any smartphone or tablet here:
http://amzn.to/1MIyrHi
Connect With Lauren Blakley
Since self-publishing her debut romance novel CAUGHT UP IN US three years ago, Lauren Blakely has sold more than 1 million books. She is known for her sexy contemporary romance style that's full of heat, heart and humor. A devout fan of cake and canines, Lauren has plotted entire novels while walking her four-legged friends. She lives in California with her family. With ten New York Times bestsellers, her titles have appeared on the New York Times, USA Today, and Wall Street Journal Bestseller Lists more than fifty times. Her bestselling series include Sinful Nights, Seductive Nights, No Regrets, Caught Up in Love, and Fighting Fire as well as standalone romantic comedies like BIG ROCK and MISTER O, which were both instant New York Times Bestsellers. In the fall she'll release WELL HUNG, another romantic comedy. To receive an email when Lauren releases a new book, sign up for her newsletter:

laurenblakely.com/newsletter
---
What did YOU think of The Sapphire Affair Review?
Are you a fan of Lauren Blakely?
Will you be adding this book to your TBR list?
Did You check out the Excerpt? Enter the Giveaway?
I would love to hear your thoughts & connect in the comments!